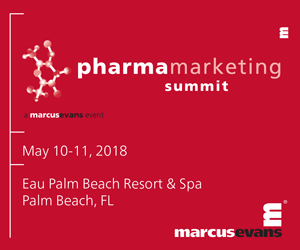 PharmaMarketing Summit
May 10-11, 2018
Eau Palm Beach Resort & Spa, Palm Beach, FL
Recent years have seen the pharmaceutical marketing industry go through major changes, with two of the biggest being the explosion in new avenues of communication and the cost of bringing new drugs to market. The rise of the Internet, e-detailing, sales-force changes, generic drugs and regulatory changes means major challenges ahead for pharmaceutical companies.  In order to cope with these changes, pharmaceutical marketing executives must find new and innovative methods of conducting business.
The PharmaMarketing Summit will highlight the current challenges and opportunities for marketing executives through visionary keynote presentations and case studies delivered by your most esteemed peers and thought leaders from leading Pharmaceutical and Biotech companies. The one-on-one meetings with leading solution providers will offer a wealth of expertise in cutting edge technology, strategy and implementation. All this seamlessly integrated with informal networking opportunities over two days will provide a unique interactive forum.
The most recent PharmaMarketing Summit took place in Orlando, FL in May 2017 continued a tradition of providing an intimate environment for Marketers in the Pharma industry and selected service providers to engage in a meaningful way.
Past Keynote speaker Drew Boyd, Johnson & Johnson Veteran, Corporate Innovation Expert and Co-author, "Inside the Box: A Proven System of Creativity for Breakthrough Results", discussed innovation for leaders and how new behaviours can stimulate growth.
VP – Business Development Ashfield Healthcare LLC comments: "The quality of the delegate attendees was excellent. The marcus evans team were focused on meeting our objectives."
"The format encourages some exchange of experiences and points of view on commercial practices. Solution providers cut the 'pursuit angle' for quality meetings with potential clients." – EVP Director of Strategic Planning Triple Threat Communications LLC
Pharmaceutical marketing executives have a unique ability to bring tremendous hope to patients around the world and have the opportunity to allow the right medicines to get to the right target audience.
To find out more about the PharmaMarketing Summit taking place May 10-11, 2018 please visit https://events.marcusevans-events.com/pharmamarketing-summit-2018/4/
Kenneth Ayigbe
Media & PR Executive
kennethay@marcusevanscy.com